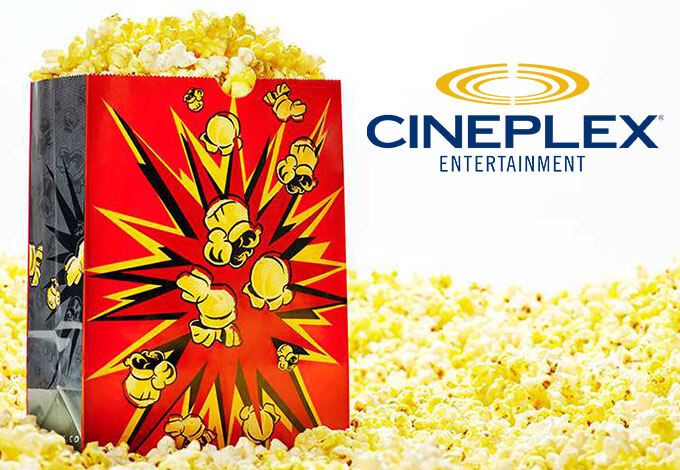 Cineplex is Canada's most popular cinema chain – hands down. One of the reasons they're so popular is their awesome choice of food and popcorn on their menu. But how much does their popcorn cost?
Here are the latest food and popcorn prices at Cineplex:
Menu Item
Prices

Popcorn

Small Popcorn
$4.99
Regular Popcorn
$5.99
Large Popcorn
$6.99

Snacks

Candy (any size)
$4.19
Hot Dog
$3.79
Nachos Grande
$6.99
Dog 'n Nacho
$6.99

Drinks

Small Soft Drink
$4.99
Regular Soft Drink
$5.99
Large Soft Drink
$6.99
Dasani
$3.19
Bottle Drinks
$3.79

Outtakes Menu

Poutine

Bacon
$6.99
Pulled Pork
$7.99
Mexican
$7.99
Beef Chili
$7.99
Classic
$5.99
Classic Hot Dog
$3.99
Hot Dog (Pulled Pork, Poutine, Nacho, Chili Cheese)
$5.99
Hot Dog Meal (Drink & Fries)
$13.69
Cheeseburger Deluxe
$6.29
Cheeseburger Deluxe Meal
$14.49
Jalapeno & Jack Burger
$6.99
Jalapeno & Jack Burger Meal
$14.99
Bacon & Blue Burger
$6.99
Bacon & Blue Burger Meal
$14.99
BBQ Pulled Pork Burger
$5.29
BBQ Pulled Pork Burger Meal
$13.49
Grilled Chicken Club
$6.69
Grilled Chicken Club Meal
$14.89
California Grilled Chicken
$6.49
California Grilled Chicken Meal
$14.69
Wraps (Buffalo Club, BBQ Pulled Pork, Sweet Thai Chicken)
$5.99
Wraps Meal (Drink & Fries)
$13.69
Regular Nachos
$6.69
Pulled Pork Nachos
$8.69
Brownie Bites
$5.79
Chicken Tenders
$5.69
Regular Fries
$3.99
Large Fries
$4.99
Sweet Potato
$5.99
Cup of Chili
$4.99
Gravy
$1.00
Why does the food cost so much?
One of the main reasons Cineplex's popcorn and other snacks cost so much compared to the grocery store is because that's where most of their profit comes from. Traditionally, movie theaters have always made very little money on the sale of movie tickets themselves (producers and distribution companies take a massive share).
In turn, cinema chains were almost forced to seek out profits in other areas of their business, and they've chosen popcorn and snacks to make up for it.
Another reason the popcorn costs what it does is that people continue to buy it at its current price! Pretty simple – why should Cineplex lower the cost if they don't need to? Until the time comes that movie-goers finally take a stand and stop buying their popcorn because of its high price, sorry to say, but the prices aren't going to change.
Recently, they've become one of the first cinema chains in the world to offer delivery of their popcorn and other snacks. They've partnered with Uber Eats, letting you buy their popcorn, and get it delivered straight to your front door.
Can you take in your own food?
Sorry to say – but it's against Cineplex's policy to bring in outside food. On their FAQs they say:
We do not allow outside food or beverages inside our auditoriums apart from reusable water bottles.

If you have special dietary restrictions, please speak with a manager on duty.
But hey, just because it goes against their policy doesn't mean it's illegal. Every day people sneak food into their theatres successfully, it's up to you whether it's worth the risk or not. It's highly unlikely that they'll search your bags or something like that.
Is Cineplex's popcorn vegan friendly?
Yep! It's been confirmed by Cineplex that their popcorn is vegan and contains no animal products. However, it's not vegan certified as it may have come in contact with animal products in the manufacturing facility.
Hi Esther, Thanks for reaching out! There are no animal by-products in our popcorn however, it is not vegan certified as it may come in contact with non vegan items.

— Cineplex (@CineplexMovies) December 6, 2018
A bit about Cineplex
Cineplex is the largest theatre in Canada with over 162 locations across the country. And not only do they run the Cineplex Cinemas, they also own the brands Cineplex, Odeon, SilverCity, Galaxy Cinemas, Famous Players, and Scotiabank Theatres. That's a lot of cinemas!
The original company was founded in 1999, and it's been through a few name changes until now. From '99 to '03 it was Galaxy Entertainment, from '03 to '11 it was Cineplex Galaxy, and now it's just good old Cineplex.
Over 10,000 locals call Cineplex their employer, making them one of the largest employers in Canada. Management oversees their operations from their headquarters located at 1303 Yonge Street in Toronto.
They've been able to maintain their strong presence and even grow, with continuous innovations to their entertainment offering. Some of their cinemas have the revolutionary 4DX technology, UltraAVX, and even the awesome D-Box. Here's a little peek at the 4DX technology:
On top of that, they've recently started introducing more and more of their exclusive VIP cinemas. These special locations feature some of the comfiest recliners you can sit on and food delivered right to your seat coming from one delicious menu. If you haven't tried VIP at Cineplex before, definitely give it a shot. It's a bit more expensive but is well worth the experience.
Talk To Cineworld's Food Staff
Want to send Cineplex a message? Feel free to reach out on one of their socials:
Otherwise, you can have a read of their FAQs to see if your question has already been answered. Lastly, you can use their store locator to find your closest cinema and give them a call directly.
Conclusion
All in all, Cineplex will continue to be Canada's largest cinema chain so long as they keep doing what they're doing – offering the latest and greatest blockbusters on the newest cinema technology.
Not all of us are fans of how much their popcorn and other snacks currently cost but, unfortunately, it doesn't look like it's going to change any time soon.
If you have any further questions about Cineplex or the pricing of its popcorn and drinks, let me know in the comments below.