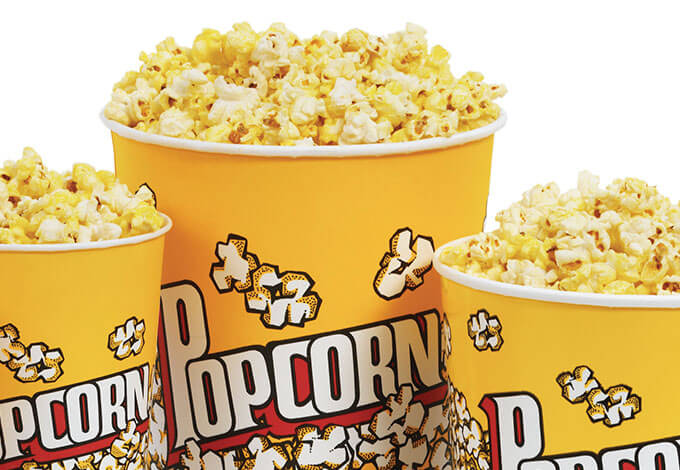 Cineworld is one of the most popular cinema chains in the UK. They have well-stocked food stands with delicious popcorn, snacks, fizzy drinks, candy, desserts. See the menu and all the Cineworld food prices below.
Here are the Cineworld food prices:
Menu Item
Price

Popcorn

Small Popcorn
£4.45
Regular Popcorn
£4.95
Large Popcorn
£5.65
Toffee Popcorn (200g)
£3.95
Gourmet Popcorn
£3.95

Hot Food

Regular Hot Dog
£4.95
Large Hot Dog
£5.75
Regular Nachos
£4.95
Large Nachos
£5.75
+Extra Drip or Jalapenos
£0.80

Sweets

Confectionery
£3.45
Ice cream tubs
£2.99
Magnum
£2.35
Misc. ice creams
£1.60
Cakes and slices
£1.90

Cold Drinks

Small Soft Drink
£3.25
Regular Soft Drink
£3.75
Large Soft Drink
£4.20
Water (750ml)
£2.50
Water (500ml)
£1.50
Bottled Soft Drink
£2.70
Fruit Shoot (200ml)
£1.60

Hot Drinks

Regular Mocha
£2.50
Large Mocha
£2.90
Regular Tea
£2.20
Large Tea
£2.50
Regular Hot Chocolate
£2.40
Large Hot Chocolate
£2.80
Regular Espresso
£2.00
Regular Cappuccino
£2.40
Large Cappuccino
£2.80
Why Is The Food So Expensive?
Traditionally, movie theatres around the world only make a small portion of their total profits from ticket sales. Management workers in some cinemas have even come forward saying the distributors of the movies, often owned by the studios that produce the movies, massively drive up costs for the end-cinema, sometimes taking up to 90% of the ticket sales revenue.
This has practically forced cinemas to turn to another avenue for their profits. In particular, the high Cineworld food prices is what they've chosen to make up the revenue.
Although it may only make up a small portion of total revenue, food sales can sometimes account for up to 40% of the cinema's total profit.
Stuart Hanson, a film historian at De Montfort University in Leicester put it quite elegantly:
In fact, the real profit comes from getting people buying concessions. One of the great jokes in the industry is that popcorn is second only to cocaine or heroin in terms of profit.
In the end – the Cineworld popcorn prices are so high because people are simply willing to pay them. As long as people keep buying their popcorn, snacks, and drinks at current prices – there's no incentive to lower their prices. Why should they?
Competing chains in the UK have similarly priced popcorn. Take a look at the Odeon popcorn prices and the Vue food prices – both a lot higher than grocery store prices.
Can You Bring In Outside Food?
Good news! Cineworld is more than happy for you to bring in your own food. Just one condition – you can't bring in hot food or alcoholic beverages.
Their official terms of entry states:
2.2 Alcohol and Food Policy: Neither alcohol nor hot food may be brought onto the premises.  Only hot food bought on the premises may be consumed on the premises. Alcohol may only be purchased and consumed in Cineworld licensed bar areas or in licensed screens and licensing laws will be strictly enforced.
You can read more about it here.
How Many Calories Are In Cineworld's Popcorn?
Along with the high Cineworld food prices, their popcorn also comes with a high calorie cost.  A small sweet popcorn (60g) is around 290 calories, with a large sweet popcorn (250g) coming with a huge 1180 calories.
What does that mean? If you want to enjoy a movie at one of their cinemas whilst staying relatively healthy, your best bet would be to stay away from the popcorn, or share a small one.
Here are a few more calorie counts on their snacks:
Food Item
Calories
Small Sweet
Popcorn
283
Large Sweet Popcorn
1180
Small Salted Popcorn
213
Large Salted Popcorn
811
Regular Nachos
539
Large Nachos
808
Regular Bockwurst Hotdog
252
Large Bockwurst Hotdog
393
Chocolate Chip Muffin
404
Click here to download the full list of nutritional information for all their food.
Is The Popcorn Vegan?
Good news! The Sweet Popcorn and the Salted Popcorn at Cineworld are both vegan friendly – it's been officially verified by Cineworld themselves. So dive right in all you popcorn-loving vegans! You're good to go.
Here's Cineworld confirming both types of popcorn are vegan on Twitter:
Hey Mia, it's certainly suitable for Vegans 😀

— Cineworld Cinemas (@cineworld) November 18, 2018
Hey Becca, our sweet popcorn is Vegan friendly!

— Cineworld Cinemas (@cineworld) May 6, 2018
Want to learn a little more about their food's allergen information? Click here to download the official PDF.
Are There Any Popcorn Coupons?
Yep! They offer a range of awesome deals and weekly promotions you can take advantage of to lower the snack and popcorn prices at Cineworld.
They have a fantastic 2 For offer. Grab a regular drink and a regular popcorn or hot dog or nachos for an awesome combo price! Expect it to be around £7.99 or so.
In addition to regular promotions, you can also get 10% off all popcorn, snacks, and drinks if you join Unlimited. For £17.90/month you can see any film, any time, as many times as you like. After a year, your membership will automatically upgrade to Platinum and you'll start getting a whopping 25% off all popcorn and food on their menu.

Click here for full terms and conditions about Unlimited.
Lastly, check out eBay for any unused coupons people are looking to sell:
About Cineworld
Cineworld is a relatively young cinema chain compared to some of the other behemoths around the world such as some American counterparts (they also have high food prices – see the AMC popcorn prices). The American, Steve Wiener, first established Cineworld in 1995 with the help of private equity. He recently stepped down from his position in 2013, after leading the company for a fantastic 18 years.
In late 2012, Cineworld bought Picturehouse Cinemas, which added another 21 locations around the UK. More recently in December 2017, Cineworld took over management of all the Regal concessions by buying them out, the second largest cinema chain in the US.
This deal made Cineworld Group the second largest movie theatre chain in the world. This was quite a strategic deal which now grants Cineworld access to the largest box office market on Earth.
Innovation has been the aim of the game recently. New technologies such as 4DX, ScreenX, and SuperScreen (ceiling-high, wall-to-wall screens with dual 4K projectors) continuously bring back movie-goers to experience the latest and greatest cinema technology.
Additionally, they've recently made a move into the premium food selection segment with the introduction of their VIP Experience. At two locations, Sheffield and Renfrew Street in Glasgow, patrons can indulge themselves in luxurious seating, an exclusively licensed lounge, and access to a buffet of light food before the movie begins. Brilliant.
Here's a little preview of what your VIP experience could look like:
Click here to learn a little more about VIP.
Talk To Cineworld Food Staff
Want to ask some of their staff more questions about the Cineworld food prices? Feel free to send them a message on their social media:
Otherwise, you're more than welcome to give them a call on 0330 333 4444. Alternatively, see if your question has already been answered on their FAQs. Lastly, click here to use their cinema locator to find the closest cinema to you.
Conclusion
All in all, Cineworld has become a mammoth of a cinema chain after acquiring USA's second-largest theatre company, Regal Cinemas. Hopefully, we'll continue to see strides of innovation in the movie-watching experience.
If you have any more questions about Cineworld popcorn prices or any of their other snacks, leave a message in the box below.
Enjoy your movie!