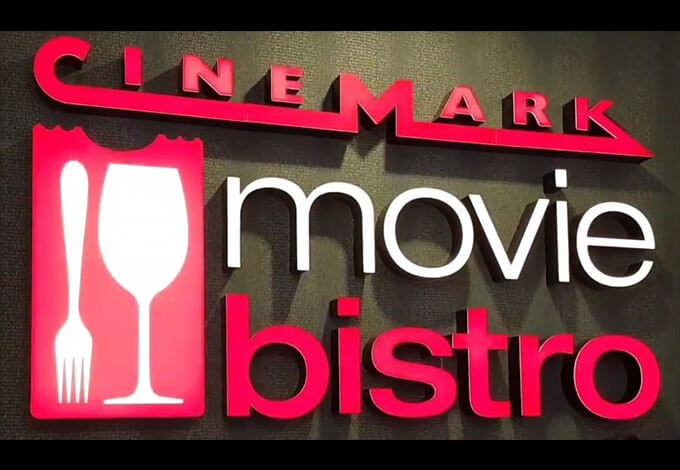 Cinemark has grown to become the third largest cinema chain in the United States with more than 500 locations and 600 screens. Recently, they've made the move into the premium food area with their highly anticipated bistro menu.
Here's the latest bistro menu for Cinemark with prices:
Menu Item
Price

Appetizers<

Bavarian Soft Pretzel Sticks
$8.00
Rosemary Fries with Chipotle Mayonnaise
$8.00
Pulled Pork Nachos
$10.00
Salmon Street Style Tacos
$6.00
Roasted Red Pepper Hummus
$6.00
Chicken Wings
$13.00
Vegetable Quesadilla
$8.00
Chicken Quesadilla
$8.00

Entrees

Bistro Burger
$11.00
Mushroom Dijon Burger
$12.00
Southwest Blak Bean Burger
$11.00
Blackened Chicken Sandwich
$11.00
Chicken & Ranch Wrap
$9.00
Fried Chicken Sandwich
$11.00
Grilled Fontina, Mushroom, and Sage Sandwich
$8.00
Pulled Pork Sliders
$8.00
Mini Cheeseburger Sliders
$8.00

Flatbreads

BBQ Chicken Flatbread
$9.75
Pepperoni, Salami, and Bacon Flatbread
$9.75
Margherita Style Flatbread
$9.50

Salads

Caesar Salaad
$7.00
Chicken & Grilled Avocado Salad
$11.00
Bistro Salad
$9.00

Desserts

Caramel Apple Crisp
$8.50
Rockslide Brownie Sundae
$8.00

Classics

Small Candy
$1.75
Large Candy
$3.75
Small Popcorn
$5.55
Large Popcorn
$7.60
Small Water
$4.10
Large Water
$4.90
Small Fountain Drink
$4.35
Large Fountain Drink
$5.35
What's the most popular food?
You know one of the toughest parts about going to a restaurant is not deciding how much to tip, but rather what you're going to choose from the menu. Which is why it's pretty common for people to ask the waiter for recommendations on what the most popular food is.
Let's skip that step – I'm going to tell you right here!
If you want to dive right in and guarantee a good meal at their bistro, I'd highly recommend you start yourself off with the Pulled Pork Nachos. You just know if you see that on a menu, you almost have to order it.
Nachos not for you – what are you even doing with your life? But seriously, once you've taken a few bites out of their Margherita Flatbread, you'll know you've made another good decision (on top of the one that you chose Cinemark).
Lighten up the movie-experience with a simple Caesar Salad if you'd like to keep that bounce in your step on the way out. It comes with romaine lettuce, croutons, shredded parmesan, and a nice dressing. Add in chicken or salmon for $3.00 if you like.
Are there any coupons or discounts you can use?
Unfortunately, you'll be extremely hard pressed to find any coupons you can use in their bistro. Cinemark offers this premium selection of food as just that, a premium selection, so they're trying to steer away from the coupon model of boosting sales.
If they do ever decide to send out a promotion, they'll likely send it to their Movie Club Members first. At the moment, you can get 20% off concessions, and a few other benefits and perks for your movie-watching journey.
Want to sign up? Click here to get started. It's 100% free and pretty easy to get started.
Still not sure what it is? Check out this little promo video they put together:
Does the menu change at different cinemas?
Yes, but not by much. It's very difficult for a national theater chain in the states to serve the exact same menu at all of their locations. And with more an more opening up, such as their recent location in Boca Raton, it'll be interesting to see how much the menu does change between them.

Putting it another way – the logistics involved in sourcing the ingredients and making the meals to the exact same specifications at all of their cinemas quite a difficult talk. Even for the third largest cinema chain in the country.
Take AMC for example, even their Dine-In Menu varies (but only a little) at each of their locations. As well, Cineplex, which serves up an up-market VIP menu to our Canadian friends has recently been striving to bring their menu together and in-line with the rest of their locations.
If you'd like a 100% accurate menu of the bistro menu at the Cinemark location you're looking to go to, find the location in the table below, and contact that theater directly.
Is it worth ordering from the bistro?
That depends on the kind of movie experience you're after. If you're more of a traditional person and are more than happy snacking on a tub of popcorn with a fountain drink at your side to wash it down, then probably – no, ordering from the bistro menu isn't the right decision for you.
---
Psssst! You were thinking – Yep, that's me! Then I think you'll want to know how much their popcorn's going to cost you…
---
On the other hand, if the sound of watching one of the latest blockbusters on the big screen, with a side of Salmon Style Street Tacos accompanied by a fine glass of wine get's you all excited – you know what to do. Head down to your local Cinemark, check out their bistro and get ordering!
I'd love to know what you think. Have you already ordered from the bistro? Was it worth it? Let me know in the comments.
Where are Cinemark Bistros located?
At the moment, only five locations around the country have a bistro which you can order from.
Here are the exact locations & addresses:
| Name | Location | Address |
| --- | --- | --- |
| Cinemark Movie Bistro Fort Collins | Fort Collins, Colorado | 335 E Foothills Pkwy, Fort Collins, CO 80525, USA |
| Cinemark Movie Bistro Edinburg | Edinburg, Texas | 2001 W Trenton Rd, Edinburg, TX 78539, USA |
| Cinemark Movie Bistro El Paso | El Paso, Texas | Sunland Park Mall, 750 Sunland Park Drive T01, El Paso, TX 79912, USA |
| Cinemark Movie Bistro Lake Charles | Lake Charles, Louisiana | 3416 Derek Dr, Lake Charles, LA 70607, USA |
| Cinemark Movie Bistro Charlotte | Charlotte, North Carolina | 9630 Monroe Rd, Charlotte, NC 28270, USA |
Just tap on the address to head to Google Maps and find directions to the cinema.
A bit about Cinemark
Did you know Cinemark is the largest cinema chain in Brazil? Yep! They a massive 30% market share in the South Amerian country, owing to their excellent efforts in providing the best movie-watching experience money an buy.
Surprisingly, it's not completely clear when Cinemark actually started. Cinemark themselves claimed to have been established in 1984, but there are online records which show it may have been a bit earlier in 1977. That's a question a bit above my pay grade! Either way, they've been around for a while, so they know how to provide a good cinema experience.
Over the years, they've bought up a few of their competitors, namely Rave Cinemas, Muvico Theaters, and Century Theaters. All of which has led to the company's fantastic growth over the years.
Today, they have over $3 billion in revenues and have cinemas in the US, South Americas, and even in Taiwan. Here's a recent promotional video showing their expansion into Taiwan:
How can you contact them?
If you'd to get in touch with Cinemark  about any questions you may have, I'd recommend sending them a message directly on one of their social media accounts:
Otherwise, you can give them a call on 1-800-246-3627. The should be able to answer any of your queries there.
Lastly, you can send them a message through their website here if you like.
Conclusion
All in all, Cinemark's premium food offering through their bistro has proven to be a fan favourite. Thousands of customers are raving about the menu, the drinks, and the overall movie-watching experience.
So what are you waiting for? Head on down to your local Cinemark and dig into their bistro menu!
If you have any further questions about Cinemark's bistro or the prices, please let me know in the comments below.