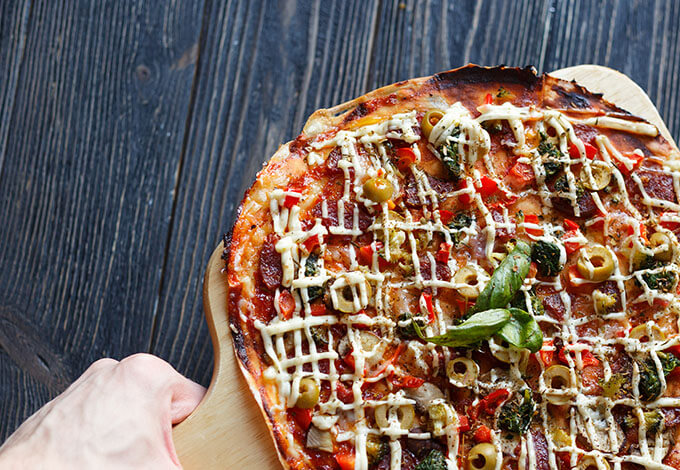 Movie Tavern is one of America's best dine-in movie theater experiences. Their style is unique, with dedicated chefs doing everything they can to take the Movie Tavern menu to the next level.
Here's the latest Movie Tavern Menu:
Menu Item
Prices

Starters

General Tso's Cauliflower
$10.45
Sweet Potato Tater Tots
$9.45
Honey Butter Potato Chips
$10.45
Roasted Red Pepper-Hummus
$10.45
Fried Dill Pickle Spears
$7.95
New York Pretzel Bites
$9.95
Spinach and Artichoke Dip
$9.75
Nachos Grande
$10.95
Classic Tomato Soup
$5.95
Wings By The Pound
$16.95
Fried Mozzarella
$8.95
Tomato Goat Cheese Fondue
$9.45
Bucket of Popcorn
$8.95

Entrees

Short Rib & Green Chile Max & Cheese
$14.95
Hand-Cut Steak & Shrimp
$17.95
Vietnamese Rice Bowl
$13.95
Baked Rigatoni With Spinach & Portabella
$14.95
Roasted Salmon Over Brussels Sprout Cranberry Walnut Salad
$14.95
Tavern Stacked Short Rib Sandwich
$14.95

Side Salads

House Salad
$4.75
Caesar Salad
$4.75
Brussels Sprout & Cranberry Walnut
$8.00

Garden Picks

Harvest Salad
$12.95
Italian Chopped Salad
$13.95
Ramen Bang-Bang Chicken Salad
$12.95
Pepper-Crusted Ahi Salad
$13.95
Mediterranean Salad
$11.95

Fare & Pizzas

Portabella & Pepperoni Pizza
$13.95
Margherita Pizza
$12.95
Mediterranean Pizza
$15.95
Wings By The Pound
$16.95/lb
Chicken Quesadilla
$10.45
Game Day Platter
$16.95
Southern Chicken Tenders
$13.45

Sandwiches & Burgers

Portabella Mushroom Black Angus & Swiss Burger
$13.95
Tavern Black Angus Cheddar Burger: Our War
$12.75
Grilled Chicken
$13.25
Buttermilk Southern Fried Chicken Sandwich
$12.95
Roasted Red Pepper And Black Bean Garden Burger
$13.25
Portabella Mushroom & Fontina Sandwich
$13.95
Ultimate Grilled Cheese and Classic Tomato Soup
$11.95
Crispy Chipotle Soldiers
$12.95
BLTA Sandwich
$11.95

Desserts

Double Chocolate Mousse With Caramel Popcorn
$6.95
Key Lime Tartlet
$6.95
Brownie Bottom Sundae
$6.95
House-Made Churros
$6.95
Theater Candy
$4.95

Kid's Meals (with drink)

Tavern Sliders
$8.95
Cheese Pizza
$8.95
Mac & Cheese
$8.95
Chicken Tenders
$8.95

Drinks

Soft Drinks
$4.95
Frozen Strawberry Lemonade
$4.95
Lipton Iced Tea
$4.95
Shakes
$5.95
Icees (small)
$5.95
Icees (large)
$6.95
Coffee
$2.95
Bottled Water
$4.95

Cocktails

Caribbean Rum Punch
$9.00
Titanic Tea
$10.00
Salty Q Dog
$9.00
Berry Spritzer
$10.00
Peach Bellini
$10.00
Cosmopolitan
$10.00
Mojito
$9.00
Mudslide
$10.00
Old Fashioned
$9.00
Manhattan
$11.00

Margaritas

The Perfect Patron Margarita
$11.00
Classic Margarita
$9.00
The Blue Thing Margarita
$9.00
Frozen Signature Tavernrita
$10.00
Patron Strawberry Margarita
$11.00
Frosty Modelo Rita
$12.00

Tiki

Tavern Tiki Colada
$12.00
Hawaiian Sunset
$10.00
Scorpion
$14.00
Movie Tavern's Most Popular Food
We're just going to come out and say it – if you want to be absolutely certain you're getting one of the best dishes on the menu at Movie Tavern, get the Nachos Grande.
It's got house-made, crispy tortilla chips, topped with deliciousness such as black beans, queso, guacamole, sour cream, shredded lettuce, green onions, and cilantro with optional chicken or beef added. Absolutely mouth-watering.
Check out some pics of those lucky enough to have already enjoyed the meal:
Of course, you'll need something to wash it down with. And that's why Movie Tavern's spent a lot of time perfecting their cocktails and drinks menu as well.
You can choose from a range of wines, local and international beers, tavern drafts, crafted cocktails, and yummy margaritas.
Here's a few to showcase:
Does The Movie Tavern Menu Change?
From location to location, you'll find the menu doesn't vary too much. You may find a few differences in the ingredients of the dishes and a few pricing changes, but overall, most of Movie Tavern's locations serve up the same menu as you see above.
On the other hand, the menu will change from time to time – across all of their locations. Just like many restaurants and other movie theaters do with their menus – such as the Alamo Drafthouse menu, Movie Tavern will update and re-invent their menu occasionally. Simply to keep up with trends and prevent customers from becoming bored of the same food over and over.
With that being said, if you want a 100% accurate menu for your local Movie Tavern, please visit their website or call them up directly.
Food Nutrition & Allergen Information
We'd like to thank Movie Tavern for being one of the few national cinema chains to provide one of the most extensive menu nutritional guides we've seen (and we've seen a lot).
It's got total calories for each meal, and measurements for cholesterol, all the different types of fat, carbs, protein, and sodium.
You can download the 25-page nutrition guide here.
Is Anything Vegan?
One area which Movie Tavern could improve on in their menu is their vegan and vegetarian-friendly options. As of writing, there is no mention on their official menu which items are vegan and which aren't.
It's a strange thing to see as nearly all the other national chains have opted to include a range of vegan items on their menu.
@MovieTavern Hi Movie Tavern! Do you have any vegan menu items?

— Anne99 (@Anne99) November 7, 2018
@MoviePass It isn't in my area. This would get me to start going to movies again. Hey @MovieTavern in Collegeville, PA, start using this….I'll actually buy your food & drinks (& start offering more Vegetarian/Vegan app/dinner oprions)!

— Skittlerats (@Ogdog1313) January 7, 2018
The demand is there. Hopefully, Movie Tavern will make the change and add a few more official vegan items to their menu in the near future.
Menu Coupons & Discounts
If you're looking for a 30% off all menu items, or a 2-for-1 cocktail deal, it's going to be quite hard to find one. Instead, most of the cinemas today have created special membership programs which they send out promotions and deals through.
Movie Tavern is no different. They have a special membership program where you instantly get a free popcorn as well as a free movie ticket on your birthday. You'll also be sent a range of perks and special for their menu and special events.
This is quite similar to the discounts available for the Studio Movie Grill menu who offer promos when you join their membership program.
Movie Tavern Locations
Movie Tavern has a few locations around the states, with the total number sitting around the 20 mark at the moment.
Here are all the Movie Tavern locations today:
| Name | State | Address |
| --- | --- | --- |
| Movie Tavern Willowbrook | Texas | 18359 Tomball Pkwy, Houston, TX 77070 |
| Movie Tavern Exton | Pennsylvania | 110 Bartlett Ave, Exton, PA 19341 |
| Movie Tavern Little Rock | Arkansas | 11300 Bass Pro Parkway, Little Rock, AR 72209 |
| Movie Tavern Trexlertown | Pennsylvania | 150 Hamilton Blvd, Allentown, PA 18106 |
| Movie Tavern Deerbrook | Texas | 9630 Farm to Market 1960 Bypass Rd W, Humble, TX 77338 |
| Movie Tavern Flourtown | Pennsylvania | 1844 Bethlehem Pike, Flourtown, PA 19031 |
| Movie Tavern Syracuse | New York | 180 Township Blvd, Camillus, NY 13031 |
| Movie Tavern High Street | Virginia | 1430 High St, Williamsburg, VA 23185 |
| Movie Tavern Hulen Mall | Texas | 920 S Hulen St, Fort Worth, TX 7613 |
| Movie Tavern Northshore | Las Angeles | 201 N Hwy 190, Covington, LA 70433 |
| Movie Tavern Denton | Texas | 916 W University Dr Denton, TX 76201 |
| Movie Tavern Deerbrook | Texas | 9630 Farm to Market 1960 Bypass Rd W, Humble, TX 77338 |
| Movie Tavern Northlake Festival | Georgia | 4043 Lavista Rd, Tucker, GA 30084 |
| Movie Tavern Central Park | Texas | 2204 Airport Fwy #450, Bedford, TX 76022 |
| Movie Tavern Green Oaks | Texas | 5727 Interstate 20 W, Arlington, TX 76017 |
| Movie Tavern Brannon Crossings | Kentucky | 150 Langley Dr, Nicholasville, KY 40356 |
| Movie Tavern Juban Crossing | Los Angeles | 9998 Crossing Way #700, Denham Springs, LA 70726 |
| Movie Tavern Syracuse | Pennsylvania | 140 Market St, Collegeville, PA 19426 |
| Movie Tavern West 7th Street | Texas | 2872 Crockett St, Fort Worth, TX 76107 |
| Movie Tavern Roswell | Georgia | 4651 Woodstock Rd, Roswell, GA 30075 |
About The Movie Tavern Menu
Movie Tavern was originally founded in 2001. And thanks to the help of their delicious menu, it's been welcomed into the arms of many of their local customers.
They've grown over the years to become one of the highest-quality movie theater dine-in experiences, with around 20 locations and 200 screens in 9 states.
Movie Tavern's dine-in experience was one of the main factors setting them apart from the largest cinema chains in the world. That is, until the AMC Dine In menu was released which also features high quality, chef made dishes.
Similarly, they're going one step further to set themselves apart by showing retro cinema on their big screens every other Tuesday and Wednesday.
It'll be interesting to see how Movie Tavern handles more and more theaters joining them in providing the dine in movie experience. Maybe we'll see the Movie Tavern menu change and adapt to fight back? Only time will tell.
Talk To Customer Service
Want to talk to the staff about the Movie Tavern menu? Send them a message on social media:
Conclusion
All in all, Movie Tavern have created a truly unique experience at their cinemas with amazing movies, brilliant sound, and a delicious menu to accompany it.
If you have any more questions about the Movie Tavern menu, leave a message below.
Enjoy your movie!