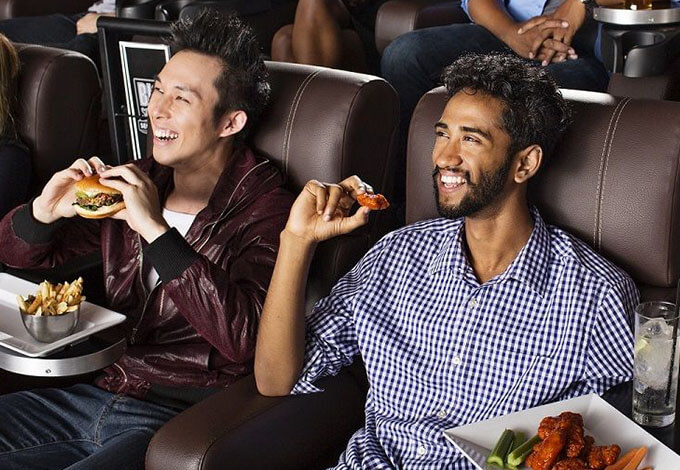 Cineplex is one of the largest cinema chains in Canada. One of the reasons behind their success is their fantastic VIP menu with great prices to go along with it.
Here's the latest menu and the prices for Cineplex VIP:
Menu Item
Price

Poutine

Classic
$8.50
Bacon
$9.50
Pulled Pork
$10.50
Smoked Meat
$12.00
Mini Perogies
$13.00

Mac 'n' Cheese

Classic
$14.00
Bacon
$15.00
Pulled Pork
$17.00

Tacos & Quesadillas

Creole Shrimp Tacos (2)
$12.00
Creole Shrimp Tacos (3)
$16.00
Crispy Chicken Tacos (2)
$12.00
Crispy Chicken Tacos (3)
$16.00
Cheese Quesadilla
$12.00
Chicken Quesadilla
$14.00

Pizza

Margherita
$12.00
Soppressata
$13.00
Tardonna
$15.00
Pulled Pork
$15.00

Salads and Bowls

Asian Noodle Salad Bowl
$15.50
Santa Fe Grain Bowl
$16.00
Chophouse Salad
$16.00
Caesar Salad
$13.50
Harvest Salad
$10.00

Burgers

Classic
$13.50
Bacon Cheese
$16.00
Maple BBQ
$17.00
The High Stack
$19.50
Veggie
$13.50

Sliders

Chicken Parmesan (2)
$14.50
Chicken Parmesan (3)
$18.50
Pulled Pork (2)
$14.00
Pulled Pork (3)
$18.00
Smoked Meat (2)
$15.00
Smoked Meat (3)
$19.00

Wraps & Tenders

Chipotle Chicken Club Wrap
$15.00
Chicken Tenders
$15.00

Popcorn & Candy

Small Popcorn
$6.50
Medium Popcorn
$7.00
Large Popcorn
$7.50
Poptopia Gourmet Popcorn
$6.50
Shake It (popcorn seasoning)
$0.50
Candy (Maltesers, M&Ms, Skittles etc.)
$5.00
Premium Candy (Kit Kat, Brookside)
$7.00

Refreshments

Medium Fountain Drink
$5.00
Large Fountain Drink
$5.50
Monster Energy
$4.50
Ginger Beer
$4.00
Apple Cider
$4.00
Coconut Water
$5.00
Cocktails
$12.00 - $15.00
Beer
$7.00 - $10.00
Wine (glass)
$9.00 - $16.00
Wine (bottle)
$35.00 - $65.00
What makes the VIP experience so good?
If you've never been before, imagine you're at your favourite restaurant, sitting in an ultra-luxurious recliner, watching a movie on the latest and greatest cinema technology. That's what's waiting for you at Cineplex VIP.
They've gone all out, sparing no expense in creating a movie-watching experience like no other.
On top of the well-refined food menu you see above (and the good prices to match), every VIP location has a licensed lounge for you to grab a drink or two beforehand, reserved seating so you can pick exactly where you most prefer to sit, premium in-seat service (food delivered to your seat), and a strict no-children policy for knowing no tantrums will ruin the experience.
At a few special locations around Canada, Cineplex has installed fully-reclining seats. Once your meal's all tucked away in your tummy, you can extend your legs stretch out as far as you can without having to worry about disturbing anyone else.
Together, those are all of the extras that make the VIP experience what it is, but is it worth it?
Is it worth going to VIP?
This is a tough question to answer in one go. I can't just give a flat Yes or No answer to it. Because it all depends on what you personally value.
Do you enjoy dining on quality meals prepared by chefs who know what they're doing? Then VIP's for you.
Do you enjoy spending a little extra to bring your movie-watching experience to the next level? VIP's for you.
Do you dislike having children fuss about and ruin your experience? Keep them out with VIP.
You get the gist. If you value any of the things that VIP is able to offer, you'll pay for it. If you don't, you won't.
If you want to watch an extremely cheesy commercial about the VIP, watch this:
Convinced? Awesome!
If you do choose to go VIP, you'll want to know a bit about their famous menu and what's currently customer's favourites.
What's the most popular item on the menu?
Just like every restaurant has its most popular items that people will continue to come back for again and again, Cineplex's VIP menu is no different.
There are a few items which stand out above the rest, with many diners praising their selection from the menu saying their food was fantastic.
First up – there have been a surprising amount of good reviews for the Creole Shrimp Tacos. If you're down for a bit of seafood with your movie, consider giving this one a go. Of course, I know seafood isn't for everyone so each to their own.
If you want to play it a bit safer, give the Smoked Meat Slider a run. Tender juiciness that'll go extremely well with a glass of beer or cocktail on the side. Delicious.
Have you already been to the VIP? I'd love to hear your favourites. Let me know what you found good in the comments.
How do the menu prices compare with other luxury cinemas?
Fairly similar to the other upmarket cinema experiences. I found the drink prices on this menu to be slightly better overall. Even though they're still pretty high, they're a little cheaper than a few of their competitors.
As you'd expect, though, the candy is quite expensive, a bit over the top expensive I think. You'll be handing over more than $5 for a standard bag of M&Ms or Skittles. Something you could get for less than half that price at the grocery store. But, hopefully, you aren't going to a VIP cinema to buy candy.
The price of the burgers are a bit on the high side, but the quality of them make up for it. If you're up for something a little bigger than normal, I'd definitely recommend trying out The High Stack. I've read some seriously good reviews on it.
Which locations offer the VIP menu?
Ok ok – if you're all set on indulging in a little VIP experience, hopefully, you won't have to travel to far to do so.
Here's a list of all the Cineplex locations that have it:
| Area | Cinema |
| --- | --- |
| Calgary, Alberta | Cineplex Cinemas Seton |
| Edmonton, Alberta | Cineplex Cinemas North Edmonton |
| Edmonton, Alberta | Cineplex Odeon Windermere |
| Abbotsford, British Columbia | Cineplex Cinemas Abbotsford |
| Coquitlam, British Columbia | Cineplex Cinemas Coquitlam |
| Vancouver, British Columbia | Cineplex Cinemas Marine Gateway |
| Winnipeg, Manitoba | Cineplex Odeon McGillivray |
| Etobicoke, Ontario | Cineplex Cinemas Queensway |
| Kitchener, Ontario | Cineplex Cinemas Kitchener |
| London, Ontario | Cineplex Odean Westmount |
| Markham, Ontario | Cineplex Cinemas Markham |
| Oakville, Ontario | Cineplex Cinemas Oakville |
| Ottawa, Ontario | Cineplex Cinemas Lansdowne |
| Pickering, Ontario | Cineplex Cinemas Pickering |
| Toronto, Ontario | Cineplex Cinemas Yonge-Dundas |
| Toronto, Ontario | Cineplex Cinemas Don Mills |
| Toronto, Ontario | Cineplex Cinemas Varsity |
| Toronto, Ontario | Cineplex Cinemas Yonge-Eglinton |
| Brossard, Quebec | Cinema Cineplex Odeon Brossard |
| Saskatoon, Saskatchewan | Scotiabank Theatre Saskatoon |
If there isn't one near you, get in touch with Cineplex today and demand they bring one! If they don't know their customer want one, they won't build it.
A bit about Cineplex and its VIP
VIP Cinemas are still a relatively new concept and initiative established by theatre companies. As their popularity has grown, it's quickly been adopted by many of the world's largest cinema chains.
Today, you'll be able to enjoy the VIP experience at a movie theatre in nearly any western country. Although it won't be a Cineplex outside of Canada. It could be Village Gold Class or Hoyts Lux in Australia, or the largest in the world – AMC's Dine-In Experience.
For Cineplex, the VIP experience first started in late 2012. Where some lucky Canadians just outside of Ontario were able to start dining on a delicious menu whilst enjoying luxurious seating.
From there, you can now visit a VIP cinema and indulge in its delicious menu at more than 20 Cineplex locations around the country (see the table above). It became so popular, that in 2014, Cineplex decided it was time to build its first 100% VIP only cinema. And they did it in Don Mills – you lucky folks.
I expect the Cineplex to continue expanding their VIP locations as more Canadians become used to the VIP treatment. That, and it's been one of the main drivers of bringing folks back into the theatres, instead of just sitting at home watching Netflix.
How can you contact them?
If you want to ask Cineplex some questions about VIP or the menu on it, you're best bet would be to send them a message on social media:
Not on Facebook or Insta? Feel free to check their FAQs to see if you're question has already been answered. Unfortunately, I was unable to find a global phone number for you to call them on.
If you do want to call them, find the closest VIP to you and call them directly. They'll be able to answer your questions in the fastest time.
Conclusion
All in all, Cineplex has put a lot of effort into perfecting the VIP experience. Combining fantastic customer service, an adults-only licensed lounge, luxurious recliner seating, and a brilliant menu to dine on – all coming together for a wonderful night.
Sure, the menu prices may be a little higher than Cineplex's standard candy bar, but you're paying for a far superior product.
If you have any questions about Cineplex or it's VIP food menu, let me know in the comments below.
Enjoy your VIP experience!