Event Cinemas Gold Class features one of the finest movie menus in Australia. Gourmet food, delicious wines, and a kid's menu – all good value for money.
Here is the latest Gold Class menu with prices:
Menu Item
Price

Small Plates

Golden Crinkle Cut Fries
$13.00
Sweet Potato Fries
$15.00
Fries 3 Ways
$19.50
Twice Cooked Buffalo Chicken Wings
$20.50
Vietnamese Spring Rolls
$19.50
Bruschetta
$18.00
4 Cheese Arancini
$20.00
Grilled Chicken Teriyaki Skewers
$20.00
Dynamite Spic Tuna Sashimi Tacos x 4
$22.00
Crispy Salt & Pepper Squid
$20.00
Spicy Popcorn Prawns
$20.00

Sliders

Angus Royale w/ Cheese
$28.00
Classic LA Style Cheeseburger
$28.00
Slow 'n' Low Smoked & Pulled Pork
$28.00
Southern Friend Chicken
$28.00
Grilled Haloumi
$28.00
Spicy Karaage Chicken Bao Buns
$28.00

Bigger Platers

Hot Dog (w/ fries)
$25.00
Signature Nachos
$26.00
Fish & Chips
$26.00

Kid's Menu

Cheeseburger Slider & Fries
$14.00
Crispy Chicken & Fries
$14.00
Nachos
$16.00
Smashed Avocado on Toast
$14.00
Ice Cream Sundae
$11.00

Pizza

Margherita
$25.00
Di Parma
$25.00
Pepperoni
$25.00
Diavola
$25.00

Desserts

Gold Class Sundae
$24.00
After Dinner Mint Sundae
$24.00
Smores Waffles & Ice Cream
$19.00
Nutella Donuts
$19.00
Churros
$19.00
Death by Chocolate Brownie
$18.00
Devonshire Tea
$16.00
Cheese Platter
$30.00
What Makes Gold Class Special?
It's not just the fantastic food on the Gold Class menu that sets it apart… there are a whole lot more Event Cinemas have put together to bring the Gold Class experience to another level.
For starters – we know you'll love the recliners in each of their cinemas. Ultra-luxurious, fully-reclining, plush leather seats. You'll struggle to stay awake during the movie given how comfortable they are.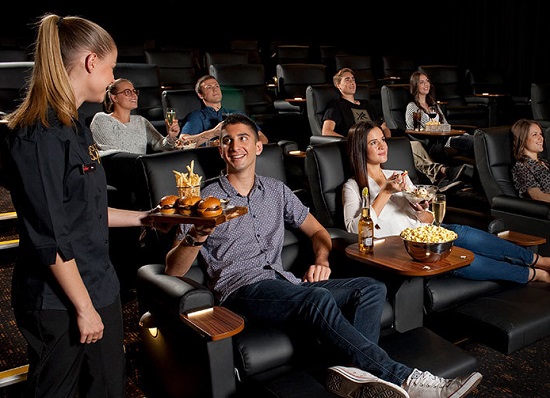 On top of that, gain access to an exclusive Gold Class lounge. Relax and unwind whilst sipping on a glass of wine or a beautifully made cocktail. Perfect to chill out or catch up with your friends before the evening's entertainment begins.
In-seat service. No need to get up – everything's going to be delivered right to your chair. Be pampered beyond belief while you get food and drink delivered without interruption to your movie.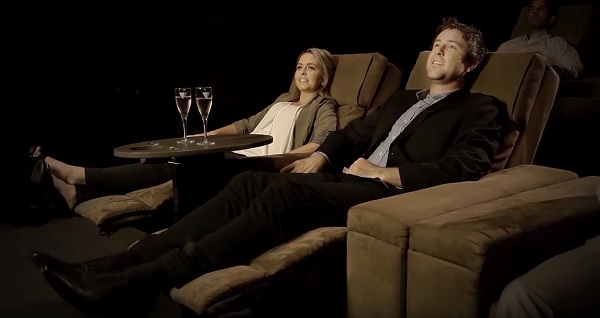 Bring all of those together and you get the experience Event Cinemas likes to call Gold Class.
Are There Any Vouchers?
Lucky you – Event Cinemas has a page full of promotions and deals you can use for the Gold Class menu.
One of the longer running deals is the Gold Class Package for 2. Here's what you'll get:
2 * Gold Class Tickets
2 * Glasses Of House Wine
Choice Of 5 Items On The Small Plates Menu
All of that for $159. Not bad for what could potentially be a whole night of entertainment for two.
If you're not up for any of the food, you can grab the Gold Class Experience for $100:
2 * Gold Class Tickets
$20 Bar Voucher
A couple of drinks with a movie and you're set.
If you want to buy any of these promotions or check out what else they have to offer, visit the Gold Class gift shop.
Most Popular Food on the Gold Class Menu
If you're into Sashimi, you can't experience Gold Class and not get the Spicy Tuna Sashimi Tacos. They come with avocado cream, black sesame, and chipotle mayo, and they'll almost certainly make you wonder whether the food's better than the movie itself.
Tuna not for you? Give their signature dish a try – Nachos. Slow-cooked chilli beef, black beans, cheddar, sour cream, sliced avocado, tomato salsa, and jalapenos. You'll be asking for the recipe before the drive home.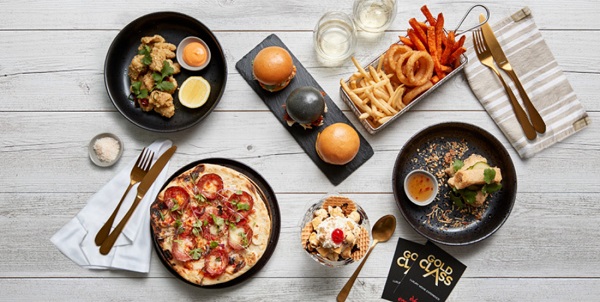 To finish it off, although the Gold Class Sundae sounds invitingly delicious, the Cheese Platter will pair far smoother with that glass of wine you're enjoying.
All in all, nearly everything on Gold Class menu will leave you pleased with your decision. So don't fret too much about what you're going to get – just enjoy the experience.
Where Are Gold Class Cinemas?
All set on indulging a little and being pampered with a Gold Class experience? Fantastic! You'll just need to find where the closest one is to you.
Here's a list of all the Gold Class locations:
| Name | Location |
| --- | --- |
| Gold Class Australia Fair Cinema | Southport, QLD |
| Gold Class Bondi Junction | Bondi Junction, NSW |
| Gold Class Campelltown | Camptelltown, NSW |
| Gold Class Carindale | Carindale, QLD |
| Gold Class Castle Hill | Castle Hill, NSW |
| Gold Class Chermside | Chermside, QLD |
| Gold Class Coomera | Coomera, QLD |
| Gold Class Garden City | Upper Mount Gravatt, QLD |
| Gold Class George Street | Sydney, NSW |
| Gold Class Indooroopilly | Indooroopilly, QLD |
| Gold Class Innaloo | Woodlands, WA |
| Gold Class Kotara | Kotara, NSW |
| Gold Class Loganholme | Shailer Park, QLD |
| Gold Class Macquarie | Macquarie Park, NSW |
| Gold Class Marion | Oaklands Park, SA |
| Gold Class Miranda | Miranda, NSW |
| Gold Class North Lakes | North Lakes, QLD |
| Gold Class Pacific Fair | Broadbeach Waters, QLD |
| Gold Class Parramatta | Parramatta, NSW |
| Gold Class Robina | Robina, QLD |
| Gold Class Springfield | Springfield Central, QLD |
| Gold Class Whitford | Hillarys, WA |
Click on each to locate it in Google Maps.
About Event Gold Class
Can you believe Event Cinemas is over a century old? Yep. It was founded over 100 years ago in 1913.
Today, it operates under the company Greater Union Organisation Pty Ltd, whose own parent company is Event Hospitality and Entertainment.
Across Australia, New Zealand, and Fiji, there are more than 80 locations at which locals can catch the latest and greatest blockbusters on the big screens.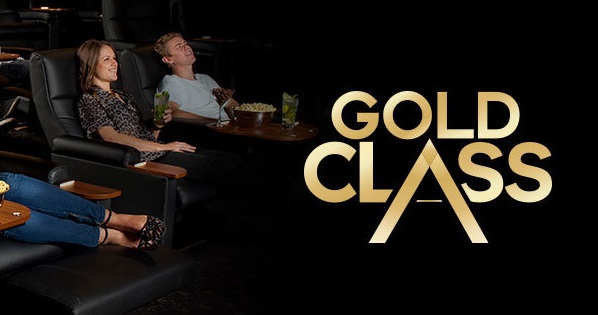 Gold Class itself, was a creation to combat the exponential decrease in people going to the cinemas due to high prices and online streaming platforms becoming more available. And the experiment has been wildly successful with any thanks to the Gold Class menu setting a standard similar to high-end restaurants.
Along with the Hoyts Lux menu, and the Village Cinemas Gold Class menu, Event Cinemas' own premium movie watching experience offering has successfully managed to maintain, and even increase, growth in the Australian cinema industry.
Here's a little promo (albeit dated) video of Gold Class when it was first reaching the Australian public:
Talk To Gold Class Staff
If you'd like to get in touch with Event Cinemas directly to ask them questions about the Gold Class menu, message one of their social media accounts:
Social media not your thing? Unfortunately, they don't offer a single point of contact which you can call to talk to them. Your best bet would be to click on the closest Gold Class to you in the table above and call the number on their Google listing.
Or, you can check out their FAQs here. There's a section dedicated to Gold Class as well.
Conclusion
Gold Class isn't just about watching a movie, it's about turning a trip to the cinemas into an event to remember, and a night you'll look forward to.
With a fantastic menu to choose from with prices to match, waiter service, a drinks menu worthy of a 4-star restaurant, and seating that'll leave you wondering if you're on a cloud, you'll be hard-pressed not to give Event Cinemas Gold Class a go.
If you have any other questions about the Gold Class menu, or the prices of any of the food, leave a message below.
Enjoy your movie!