Odeon Cinemas is one of the most popular cinema chains in the UK with over 120 locations. Discover Odeon's food prices for its popcorn, snacks, nachos, combos, and drinks.
Here are the latest Odeon food prices:
Menu Item
Price

Snacks

Regular Popcorn
£4.90
Large Popcorn
£5.40
1 x Popcorn Topping (Mini Rolos, Smarties, Mini Oreos, Pretzels)
£1.00
3 x Popcorn Topping (Mini Rolos, Smarties, Mini Oreos, Pretzels)
£2.00
Hot Dog
£5.60
Regular Nachos
£5.60
Large Nachos
£6.00
Nachos Topping (cheese, salsa, guacamole, sour scream)
£0.90

Combos

The Classic (regular popcorn or nachos, regular soft drink)
£6.95
The Deluxe (large popcorn or hot dog or nachos, large soft drink)
£7.60
The Sharer (large popcorn or hot dog or nachos, bag of sweets, 2 large soft drinks)
£11.60
Family Feast (regular popcorn, 2 soft drinks, 2 kids mixes)
£10.99
Kids Mix (kids popcorn, kids drink, kids treat)
£3.95

Drinks

Small Soft Drink
£2.95
Regular Soft Drink
£3.25
Large Soft Drink
£3.60
Small Ice Blast
£2.15
Medium Ice Blast
£4.35
Large Ice Blast
£4.85

Sweets

Regular Candy
£2.70
Large Candy
£3.25
Photos of the menu
Here are some photos of Odeon's popcorn and snack prices:
Odeon's Most Popular Snacks
Popcorn has been the traditional go-to cinema snack for nearly 100 years now (after it was popularized in the USA during the Great Depression), and there's no doubt that it continues to be the most popular snack of choice.
It's easy to snack on, doesn't leave a mess (usually), doesn't make too much noise, and pairs perfectly with soft drinks to wash it down.
If you can confidently walk into their cinema, buy a ticket, and continue to walk past all the Odeon food on their menu and not end up buying a tub of popcorn, you're stronger than most. The heavenly smell of the wafting buttery goodness is unbelievably persuasive.
Of course, popcorn isn't the only food on Odeon's menu. If you're tired of popcorn and want to change things up a bit, they've spent quite a bit of time perfecting the nachos, and they've done a pretty good job of it. They offer a range of extras you can put on top to customise it exactly the way you want.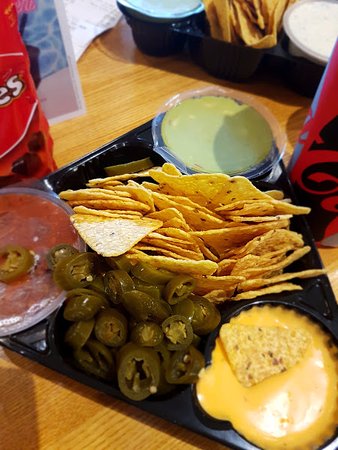 Whatever type of Odeon food you choose, you'll be hard-pressed not to enjoy it.
Are There Any Popcorn Coupons?
Unfortunately, Odeon rarely releases coupons or vouchers for their popcorn. That's definitely not what you wanted to hear, but it's the sad truth.
Odeon seems to be reluctant in giving out or sharing any specials deals for their food and drinks. One of the likely reasons this is the case is because many of the largest cinema chains in the world rely on their food to boost their profits to an acceptable margin. And Odeon isn't any different.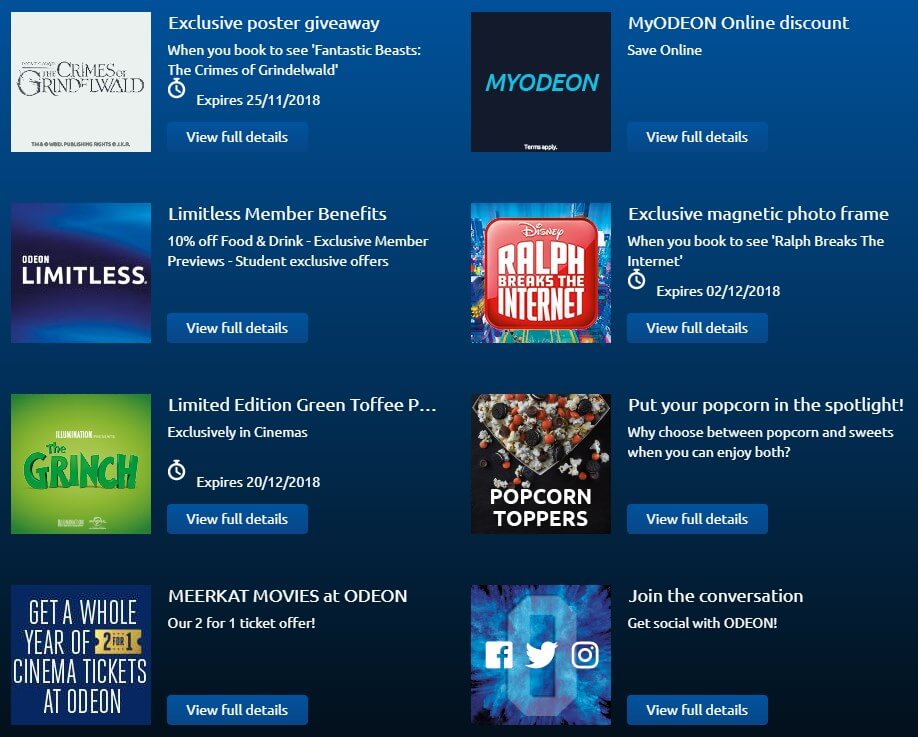 If you do want to double-check yourself for any discounts on the Odeon popcorn prices, check out their promotions page. Otherwise, you can sign up to become a member, or subscribe to their newsletter – likely the best way to receive deals as soon as they're available.
Lastly, check out eBay for any unused coupons people are looking to sell:
Is Outside Food Allowed In Odeon?
Fantastic news! You're allowed to bring your own food into Odeon. Whether it's from the grocery store, a snack from home, or a coffee from across the street – it doesn't matter, they'll let you bring it in.
Odeon does have two rules about outside food though – it can't be an alcoholic beverage, and it can't disturb the other guests (no hot or strong smelling food). Other than that, you're good to go. Heck, if you want to bring your own popcorn – you can!
Here's a more recent one: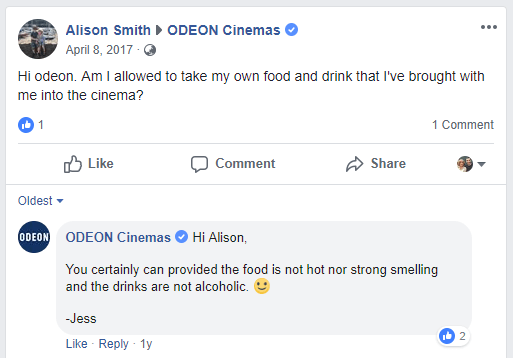 Is Odeon's Popcorn Vegan?
Great news for all vegetarian and vegan popcorn lovers – Yes! Odeon's popcorn is vegan. Odeon has confirmed themselves multiple times on twitter that their popcorn is suitable for vegans.
On top of that, their Nachos is vegan as well (only if you get it with salsa though). Check out their tweets:
Veganism and exploded over the past 10 years. And so, cinemas have been forced to adapt to the changing demands of movie-goers. Odeon continues to listen, consistently changing and updating its menu to include vegan options as seen above.
Competing cinemas chains also have vegan popcorn which you can see here on Vue popcorn prices pages.
Making sure it's vegan is one thing, but it's also important to know how many calories are in the popcorn.
Here's a table with some nutritional info on their most popular items:
| Menu Item | Calories |
| --- | --- |
| Small Popcorn | 357 |
| RegularPopcorn | 609 |
| Large Popcorn | 812 |
| Hot Dog | 277 |
| Regular Nachos | 554 |
| Large Nachos | 756 |
| Partymix (candy) | 333 |
| Milk Chocolate Raisins | 410 |
| Cola Bottles | 335 |
Click here to download a PDF of their full nutritional information.
About Odeon
Oscar Deutsch is the one responsible for establishing Odeon back in 1928, when he put together their first location in Brierley Hil, Staffordshire. Although it wasn't called Odeon in the beginning, rather, it took the name Picture House.
It would be interesting to see how the Odeon food prices were different back then to what they are not today.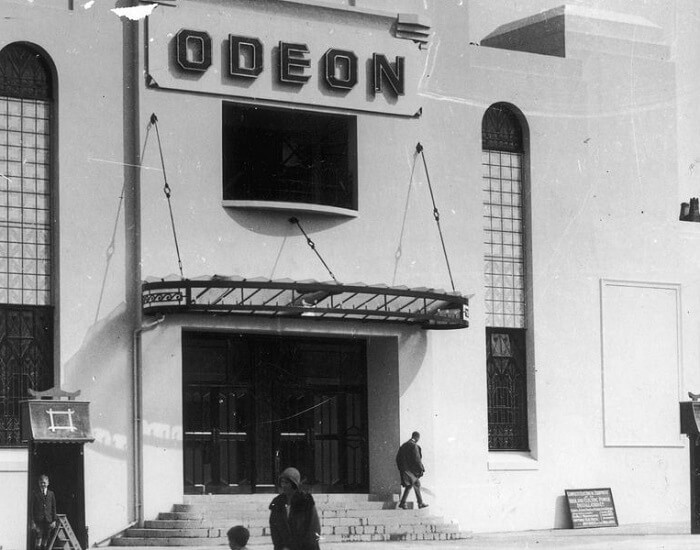 It wasn't until 1930 that the first Brits would be mouthing the name Odeon when taking a trip to watch the latest flicks in the cinemas. That was in Perry Bar, Birmingham.
Today, they've grown to become the largest cinema chain in the UK (by market share) with over 120 locations, and 11 in Ireland as well.
Fun fact: Odeon stands for OscarDeutsch Entertains Our Nation – that he's certainly doing! Even well past his time on Earth.
Just recently in 2016, Odeon changed hands for $921 million. The new owners, AMC Theaters (based in the US who've recently launched AMC Dine-In), became the world's largest cinema chain. The deal was finalised in November 2016 after it received approval from the European Commission.
One initiative Odean began to bring back customers after Netflix was thrown into the world, was to introduce a monthly membership subscription. And it's been a major success.
For just £17.99/month, you can watch all the movies you can, as many times as you want. It's called Limitless, and you even get 10% off the Odeon popcorn prices when you show your card in the cinema. Click here to learn a bit more about it.
Talk To Odeon's Food Staff
If you'd like to get in touch with some of their staff to ask any more questions about the Odeon food prices, the most effective way would be to send them a message on social media:
You can check out their FAQs here to see if your question has already been answered, or you can start a live chat with a representative on their website.
Conclusion
All in all, Odeon delivers a great cinematic experience with plenty of food items on the menu to choose from.
Sure, the Odeon nachos and popcorn prices may be a little higher than what you can get them for elsewhere, but it's an important part of their business sustainability.
If you have any more questions about the Odeon food and its prices, leave a message below.
Enjoy your movie!