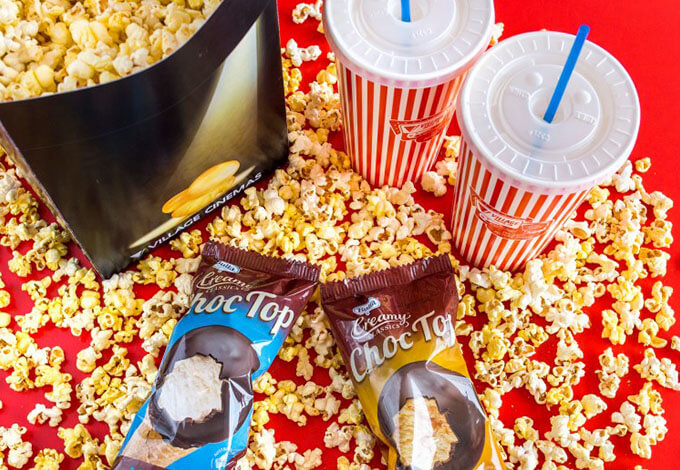 Village Cinemas is one of Australia's most popular cinema chains. They've got massive screens, awesome sound quality, and plenty of food to choose from. Find out how much their popcorn costs and more.
Here are the latest food and popcorn prices for Village:
Menu Item
Price

Popcorn

Small Popcorn
$8.00
Regular Popcorn
$9.00
Large Popcorn
$10.00
Gourmet Popcorn
$9.00

Snacks

Burger Rings
$5.00
Twisties
$5.00
Smiths
$5.00
Red Rock Deli
$5.00

Hot Food

Chicken Strips
$9.00
Hot Dogs
$9.00
Nachos
$9.00
Pizza
$9.00
Spiral Cut Chips
$9.00
Dumplings
$9.00
Hot Jam Donuts
$7.00
Churros
$7.00

Sweets

Fairy Floss
$9.00
Chocolate Bars
$4.50
Snakes/Party Mix
$6.50
Chocolate Bags
$7.00
Choc Top
$7.00
Connoisseur
$5.50
Maxibon
$5.50

Combos

Junior Combo (kids popcorn, small drink, chocolate treat)
$10.00
Small My Combo (popcorn & drink)
$11.50
Regular My Combo (popcorn & drink)
$13.50
Large My Combo (popcorn & drink)
$15.50
Gourmet My Combo (popcorn & drink)
$19.50
Classic Combo (large popcorn, 2 large drinks, 2 ice creams)
$26.00
Family Combo (4 small popcorns, 4 small drinks, 4 chocolate treats)
$30.00
BFF Combo (2 regular popcorns, 2 regular drinks, bag of chips)
$26.00
Our Combo (large popcorn, 2 large drinks)
$19.50
Vrewards Combo (regular popcorn, regular drink)
$10.00

Drinks

Small Soft Drink
$6.50
Regular Soft Drink
$7.50
Large Soft Drink
$8.50
Mt Franklin 600ml
$4.90
Mt Franklin Sparkling
$4.90
Powerade
$5.50
Deep Spring
$5.50
Fuze Iced Tea
$5.50
Monster Energy Drink
$5.50
Why is the food so expensive?
The main reason why not only Village's popcorn, but nearly all the cinema chains in Australia's popcorn is so expensive, it because people continue to pay for them. It's a simple supply and demand situation.
Think about it like this, everyone all of a sudden refused to pay the price they're asking for, they'd be forced to drop the number in order to bring sales back up. But that's not going to happen, because it's too damn delicious for people to form such a protest!
On another note, the candy bar is where a large portion of the theatre's profits come from. Sure, they may only make up a small amount of the total sales, but in terms of profit, they account for nearly 40% according to some studies.
With that being said, it won't stop the local media from continuining to publish articles around movie theatres being a ripoff and the popcorn is unjustifiably high in cost.
How healthy is the popcorn?
Sorry to say, but if you're looking to stay healthy and count your calories, you'll probably want to stay away from the popcorn at Village.
According to MyFitnessPal, a large popcorn has around 940 calories in it. That's nearly 10 apples worth.
Similarly, CalorieKing puts a small popcorn at 300 calories, and a medium at 630 calories. So if you want to enjoy a movie with some snacks and stay healthy, it's best to bring in your own food.
Is anything vegan?
Generally, the salted popcorn always one of the few vegan items on the food menu. For example, all of AMC's (US cinema chain) popcorn is vegan, but the seasoning they add on top afterwards isn't. Which is great, because then everyone can get what they want. Unfortunately, Village doesn't have an official allergen guide so I can't confirm here whether it is or not.
If you're looking to be 100% on whether their popcorn or any other food/snacks they have is vegan, ask the server beforehand or give their head office a call.
A big about Village Cinemas
Village Cinemas has been serving up movies to the Australian public for more than 50 years now, after first being established in 1954 when the first drive-in theatre was built. The company itself is owned by Australia Theatres, a joint venture between Village Roadshow and Event Hospitality and Entertainment.
They've grown from their humble beginnings to now operate more than 50 cinemas across 5 countries, including Argentina, Greece, Fiji, and of course, Australia. However, you'll only find their cinemas in two of the Australian states – Victoria and Tasmania. It's unsure why they've yet to venture out into the surrounding areas.
One recent innovation to their business has been the introduction of Gold Class. This premium movie experience features and up-market menu, luxurious reclining seats, all the refreshments you desire, and delivery right to your seat. It's been a hit in many locations with more and more Village locations seeing a Gold Class added to it. Their Gold Class was almost a necessity to bring in after both Hoyts, with Lux, and Event Cinemas, with their own Gold Class, brought premium movie experiences to the Aussie market.
It's a bit old, but here's a promotion when it was still fairly new to the public:
How can you contact them?
Want to get in touch with Village? I'd recommend sending them a message on one of their social media accounts:
Otherwise, you're more than welcome to send them a message directly through their website here. Lastly, if you'd prefer to contact a cinema closest to you, click here to use their cinema locator.
Conclusion
All in all, yes, the popcorn may be a little expensive, but it's damn delicious and extremely hard to resist. Especially when the smell of it fills the air as soon as you walk in to watch a movie.
If you have any further questions about Village's food, popcorn, or the prices of anything, let me know in the comments below.