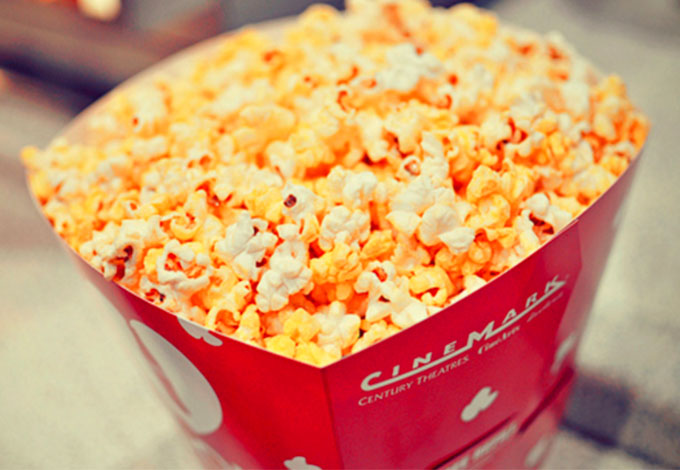 Cinemark is one of the largest movie theater chains in the United States and the largest in Brazil. It's grown to become such a powerhouse partly due to its fantastic concessions menu with pretty good prices as well.
Here is the latest concessions menu for Cinemark with prices for their popcorn and snacks as well:
Concessions Item
Price

Traditional Snacks

Junior Popcorn
$5.05
Small Popcorn
$6.05
Medium Popcorn
$7.05
Large Popcorn
$7.90

Small Bag Candy
$2.30
Medium Bag Candy
$3.90
Large Bag Candy
$4.50

Snacks

1/4lb Angus Dog
$5.35
Hot Dog
$4.35
Nachos
$5.40
Extra Cheese
$2.00
Snack Pack
$5.35
Lite Bites Pack
$6.80
Pickle
$2.45
Frozen Treats
$4.45
Beef Jerky
$4.15
Oreo Mini's
$3.85
Kernel Seasons
$1.50

Fries

American Fries
$4.75
Cheese Fries
$6.25
Chilli Cheese Fries
$7.00
Bacon Cheese Fries
$7.00

Burgers

Hamburger w/ Fries
$7.95
Cheeseburger w/ Fries
$8.45
Bacon Cheeseburger w/ Fries
$9.95
Macho Burger
$9.95
Veggie Burger w/ Fries
$8.75

Pizzas

Small Cheese Pizza
$7.00
Large Cheese Pizza
$17.00
Small Pepperoni Pizza
$8.00
Large Pepperoni Pizza
$18.75
Additional Toppings
$1.00

Desserts

Otis Cookie (3)
$2.00
Hand Dipped Milkshake
$4.85
Ice Cream Float
$4.85

Fountain Drinks

Large Drink
$5.35
Medium Drink
$4.85
Small Drink
$4.20

Other Drinks

Dasani
$3.95
Monster
$4.65
Vitamin Water
$4.65
Bottled Drink
$4.00
Yup! Milk
$3.50
MM Sparkling
$4.65
Honest Kids
$1.60
Honest Tea
$4.65

Hot Drinks (medium)

Caffe Latte
$4.60
Cappuccino
$4.60
Caramel Macchiato
$4.60
Caffe Mocha
$4.60
White Choc Mocha
$4.60
Brewed Americano
$4.60
Hot Tazo Tea
$4.60
Tazo Chai Latte
$4.60
Hot Chocolate
$4.60

Combos

Large Popcorn & Large Drink
$14.95
Large Popcorn & 2 Large Drinks
$17.95
Medium Popcorn & 2 Medium Drinks
$16.50
Nachos & Large Drink
$9.75
Hot Dog & Large Drink
$9.75
Large Popcorn & Medium Drink
$9.75
Why Is The Food So Expensive?
One of the soul reasons Cinemark's food and snacks (especially the popcorn) cost a lot is because people continue to pay them. It's simple supply and demand.
Cinemark is supplying their delicious popcorn and drinks at a certain price, and people are paying that price. So why should they change how much it costs?
Before you get on Cinemark's back, know that they're not the only cinema chain charging high prices for their snacks. Take a look at AMC's popcorn prices as well as Regal's food prices – both who are charging quite a bit for their concessions.
The only way concession stand prices will start to come down is if people stopped buying them. But you know that's not going to happen.
Who can resist the tempting smell of freshly made popcorn wafting through the air on your way into the theater? You're unbelievably disciplined if you can.
Sure, overall, the prices are no doubt higher than the grocery store but remember – the revenue of concessions sales makes up a large portion of the profit for Cinemark.
Without it, prices for admission tickets would likely start to increase, forcing more movie-goers to consider alternate ways to watch their movies, which will lead to a further decline in profit – you see, a vicious cycle starts to form.
Unfortunately, it looks like the high prices of popcorn and snacks at Cinemark are here to stay.
Cinemark's Most Popular Food And Snacks
You already know the answer to that question – it's their popcorn. Cinemark put in a lot of time and effort into ensuring they only serve up the best popcorn they have to offer. But why did popcorn become so popular?
Popcorn has been the go-to movie snack for nearly 100 years now, after the Great Depression there was a massive rise in demand for the cheap, easy to make, and delicious snack. Vendors were quick to set up popcorn stands outside the cinemas, and when the cinema chains saw their success, they were even quicker to start serving the popcorn inside their own walls.
Since then, it's become a difficult task to resist the temptation of snacking on a tub of the goodness whilst enjoying one of the latest blockbusters. Of course, as you can see from the menu above, popcorn isn't just all Cinemark serves up on their menu.
A few of the other favorites include their Nachos and their Chilli Cheese Fries – delicious on all occasions.
How Healthy Is Cinemark's Popcorn?
If you're on a diet or looking to keep your calories low, skip the popcorn. A medium-sized popcorn from Cinemark is 800 calories with 45g of fat. Upgrade to a large and you'll get a massive 1,120 calories in total, with 63g of fat.
Here's a table with some caloric information on all their popcorn, and a few of the other snacks as well:
| Menu Item | Calories |
| --- | --- |
| Junior Popcorn | 200 |
| Small Popcorn | 480 |
| Medium Popcorn | 800 |
| Large Popcorn | 1,120 |
| Nachos | 550 |
| Wedge Fries | 1,023 |
| Cheese Pizza | 680 |
| Movie Snack Pack | 308 |
| Vanilla Milkshake | 490 |
| Cheddar & Jalapeno Hotdog | 230 |
| Peanut Butter Cookie | 170 |
| Uptown Cheesecake | 480 |
| Iced White Chocolate Mocha | 450 |
So – instead of asking How much does a large popcorn cost at Cinemark? You may be wiser to ask How many calories does Cinemark's popcorn have? But let's be real, you're going to the movies to enjoy yourself, not to count every calorie in every bite you take. Choose what you want to eat, and enjoy it.
Click here to download the full PDF with all the nutritional information on the menu at Cinemark.
Is Cinemark's Popcorn Vegan?
Yes, Cinemark's popcorn is vegan if there isn't any salt on top. Cinemark's popcorn salt does have some salt and could contain dairy.
Here's a quote directly from their website:
The popcorn salt that we use to pop the corn with does have some soy and could contain dairy.
Additionally, Cinemark states employees would be able to make a fresh batch of popcorn without salt if a guest would prefer it this way.
To avoid disappointment, call up your local Cinemark beforehand to confirm whether or not they'd be willing to make a fresh batch of vegan-friendly popcorn before you head down.
Are There Any Cinemark Popcorn Coupons?
You bet! The best way to grab yourself a discount on popcorn, or any other snack at the concession stand, is to signup to Cinemark's weekly newsletter. It's 100% free and the only way to get real discounts on their food.
If you do want to Google for coupons, most of the ones you'll find on the most popular coupons sites simply don't work. These sites just advertise combos that are available at all so you click on them (which earns them money).
The only sure fire way to save money on popcorn is to get coupons from Cinemark themselves. Interested? Click here to sign up to their weekly newsletter.
You'll get info on movies, updates on the food they have, special invitations to certain events, and most importantly, the latest and greatest coupons to save some bucks.
Is Cinemark's Popcorn Worth The Price?
It's a question only you can answer. You're the one paying for it after all. I think it is (because it's delicious and warm and makes the world a better place) but that's just me.
If you're looking for a possible alternative to try, check out the Cinemark Bistro. Its food's a bit fancier than the concessions stand, but that also means it comes with a higher price.
On the other hand, if you're after movie-food prepared by an actual chef, the Bistro is well worth a visit.
Keep in mind the Bistro is not available at all Cinemark locations. Please confirm beforehand to avoid disappointment.
About Cinemark
Surprisingly, Cinemark isn't just Cinemark. It actually has a number of chains including Century Theaters, Tinseltown USA, CineArts, and Rave Cinemas.
Altogether, the parent company operates cinemas at over 525 locations around the world, mostly in the Americas with a few locations in Taiwan as well.
Cinemark, like many of the other chains in the world, operates within the area that the concession stand is where they make the majority of their profit. And in this concession stand, there has been constant innovation and ever-changing foods on the menu over the years.
One thing that has always remained certain, though, has been their popcorn. Although in recent times, there's been a move into a more upmarket menu with their bistro offering and in-seat full service at select locations.
This move was made is due to the declining admissions through the USA and the rest of the world. More and more consumer are happy to stay home and stream movies on the many platforms available. Looking at you Netflix.
The improved menu has been a vast success for many of the cinemas, with both admissions and overall profits increasing.
On top of an improved menu, Cinemark are also vastly improving the seating available at selection locations:
Talk To Cinemark's Food Staff
If you'd like to get in touch with Cinemark about their popcorn prices, the best way would be to contact them on social media:
Otherwise, you can call them directly on 1-800-246-3627 or (1-800-CINEMARK). This will get you in touch with them directly where you can ask any questions you have.
Their headquarters are located in Plano, Texas. If you want to pay them a visit their address is 3900 Dallas Parkway, Suite 500, Plano, TX 75093-7865.
Conclusion
All in all, Cinemark is a great cinema chain to watch the latest movies at, and they have an extensive concessions menu to choose from. Sure, the prices of their popcorn and other snacks are a bit high, but they're definitely worth the price if you're after the traditional movie experience.
Popcorn has been the traditional cinema snack for the past 100 years, and it'll be that way for the next 1,000 years as well.
If you have any more questions about the menu or the prices, let me know in the comments below.
Enjoy your movie!