Hoyts Lux is arguably the most highly-rated luxurious movie-watching experience in Australia. Take the whole movie experience to the next level with delightful drinks, luxurious recliners, and delicious food from the Hoyts Lux menu.
Here's what's on the Hoyts Lux menu along with their prices:
Menu Item
Price

Shares & Starters

Duck Bao
$22.00
Duck Cigar Spring Rolls
$19.00
Southern Style Fried Chicken
$20.00
Loaded Fries
$19.00
Sweet Potato Fries
$17.00
Lux Fries
$16.00
Mac 'n' Cheese Balls
$18.00
Fish Goujons
$19.00
Stuffed Pumpin Flowers
$19.00
Baked Camembert
$21.00

Trio of Sliders (w/ fries)

Classic Cheeseburger
$29.00
Mexican Pulled Pork
$29.00
Grilled Chicken
$29.00
Tofu
$29.00

Salads

Nam Duck
$25.00
Grilled Chicken
$23.00

Something More

Beef Bourguignon
$27.00
Coq au Vin
$27.00
Mushroom & Sweet Potato
$27.00
Trio - One of Each Pie
$27.00
Potato, Bacon & Rosemary Pizza
$26.00
Pepperoni Pizza
$23.00
Pulled Pork Pizza
$23.00
So Frenchy Dog
$24.00
Spicy Dog
$24.00

Dessert

Trio of Eclairs
$19.00
French Lemon Cheesecake Smash
$18.00
Churros in Cinnamon Sugar
$19.00
Twice-Cooked CHocolate Souffle
$17.00
Orande & Dark Chocolate Brioche Pudding
$17.00
Milkshakes
$11.00
Malteser Sundaes
$26.00
Ben & Jerry's Pints
$15.95

Gourmet Popcorn

Seriously Sweet
$9.60
No Nonsense Nacho
$9.60
Sea Salt Caramel
$10.60
Caramel Maple Bacon
$10.60
I Love New York Mix
$10.60
Why Is Hoyts Lux So Good?
Simply because it combines the best of everything into one. Next level cinema experience with the latest sound and screen technology, combined with the ultra-luxurious comfort of their reclining seats and the food to die for on the Lux menu.
The Hoyts Lux menu is something to be admired – having been designed by one of the hosts from MasterChef, Manu Fieldel. A bit more on that below.
In addition to the fantastic food, at a few select Lux locations, you'll find recliners designed with the ultimate comforting experience in mind. Easy to use controls, an attached wooden table for your food and beverages, and ultra-luxurious couch seating at Carousel cinemas.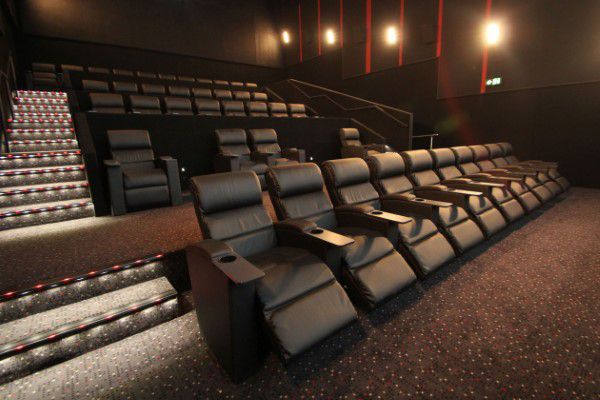 All in all, the Hoyts Lux experience has been optimised for luxury overcapacity. Allowing you to enjoy the latest blockbusters on the biggest screens, all without the worry of the mass crowds ruining your experience.
There's a saying among frequent Lux customers:
Once you go Lux, you can't go back.
Of course, the prices are quite a bit higher than the standard Hoyts snack prices, so maybe Lux is better off as a special treat every now and then.
Who Made The Hoyts Lux Menu?
If you've ever watched MasterChef, you'll likely recognise his face and accent almost instantly.
Hoyts have partnered with the MasterChef judge, Manu Feildel, to reinvigorate and bring to life a new era of the Hoyts Lux menu.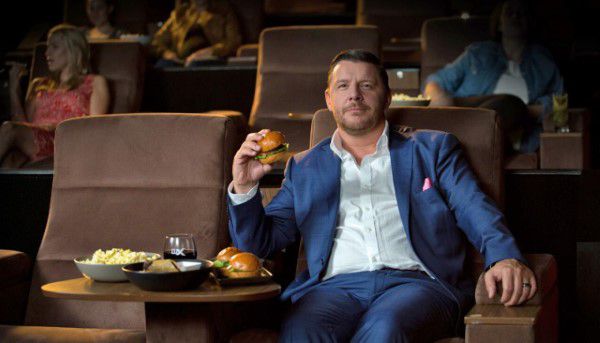 Overall, the menu focuses on gourmet ingredients, bringing together flavours and tastes from around the world. You'll also find some of the more traditional meals have a unique modern twist to them. Something that will leave your taste buds delighted.
Hoyts themselves put together a little promotional video for the launch of their new menu. It captures the vibe of Fieldel perfectly:
Where Are The Hoyts Lux Cinemas?
You'll be able to dine on the delicious menu at Lux all across the country. Hoyts Lux can be found in New South Wales, Victoria, Western Australia, and South Australia.
Sorry Queenslanders – you've only got the standard Hoyts to choose from. Check out Hoyts popcorn prices for more relevant info for your location.
Here are the cinemas that offer the Lux experience:
| State | Name |
| --- | --- |
| NSW | Hoyts Lux, Broadway |
| NSW | Hoyts Lux, Chatswood Westfield |
| NSW | Hoyts Lux, Entertainment Quarter |
| NSW | Hoyts Lux, Green Hills |
| NSW | Hoyts Lux, Wetherill Park |
| VIC | Hoyts Lux, Chadstone |
| VIC | Hoyts Lux, Eastland |
| VIC | Hoyts Lux, Highpoint |
| VIC | Hoyts Lux, Melbourne Central |
| VIC | Hoyts Lux, Victoria Gardens |
| WA | Hoyts Lux, Carousel |
| SA | Hoyts Lux, Tea Tree Plaza |
Now you know where Lux is, the next step is choosing what you're going to have from the menu.
What's The Most Popular Hoyts Lux Food?
One of the best rated by customers, and one of Fieldel's personal favourites – it's the Duck Bao.
Dine on a trio of steamed bao, filled with a variety of ingredients combined into something magical. Inside each, you'll find crispy confit duck, house-made shitake & cucumber pickle, spring onion & ginger mayo and a smoky hoisin sauce. Brilliant.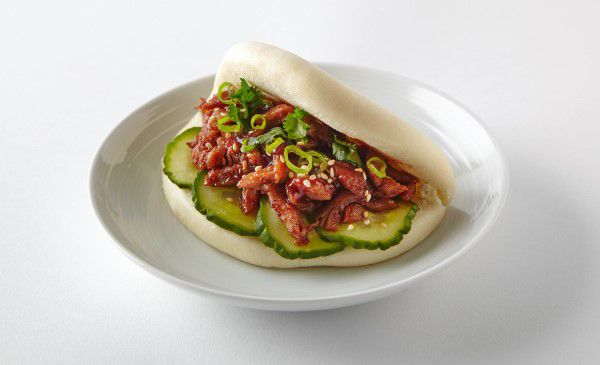 You also have the option to replace the duck with crispy salt and pepper tofu if that's your thing.
If you're after something a little heavier, go for the Coq au Vin. French chicken cassoulet pies – encased with a delicious Careme shortcrust pastry and then topped with puff pastry.
As well, there are a few vegan options to choose from on the Lux menu – consult the menu or double-check with your waiter. Fair warning – you may enjoy the food more than the movie.
Still not sure what to order from the Hoyts Lux Menu? Ask one of the waiters. They'll be more than happy to recommend some of their best dishes.
Is Lux Worth It?
The items on the Lux menu are a far superior food offering. Having been designed by one of the most recognisable chefs in the country, featuring a range of exquisite food combinations from around the world, and coming with a standard of service more luxurious than some First Class seats in planes – it's worth the treat.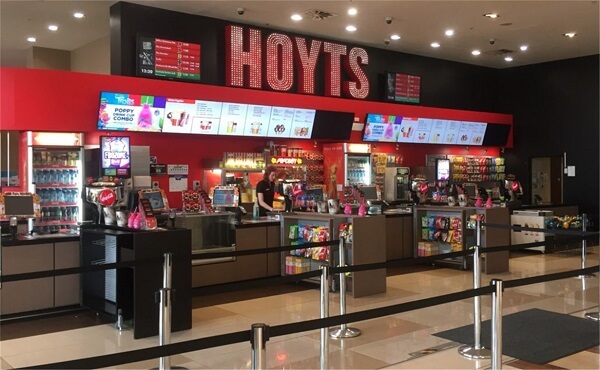 So yes, you will be paying a higher price for food and beverages at Lux, but you'll also be receiving a far higher return in value of each dollar you put in.
In saying that – it's all up to you.
If you'd rather have a Large Popcorn & Drink for $20, go for it. But if you'd rather a smooth glass of wine with a side of Duck Cigar Spring Rolls, then you'll only find them on the Hoyts Lux menu.
Talk To Hoyts Lux Food Staff
Like many of the other movies theatres, Hoyts are quite active across a range of social media channels. Send them a message on any of the following and they should be quick to reply:
Otherwise, check out their FAQs to see if your question has already been answered.
Conclusion
The Lux experience is one of the ways Hoyts is bringing movie-goers back into the cinema after losing them to Netflix and other streaming services.
All in all, the experience available and the food on offer on the Hoyts Lux menu might be a bit more expensive than the traditional candy bar, but the experiences cannot be compared.
If you have any other questions about Hoyts Lux or the prices of each item, let a message in the comments below.
Enjoy your movie!