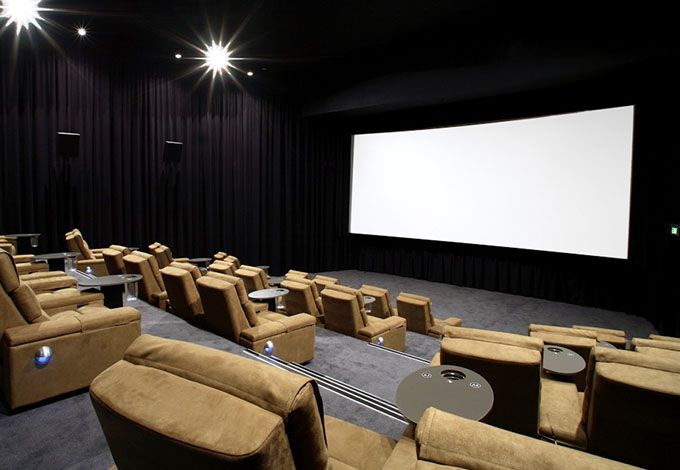 Find out all there is to know about Village Cinema's Gold Class menu. Discover the foods & drinks on their menu, and just how much each one of the items is going to cost you.

Here are the latest prices for Village Cinemas Gold Class Menu:
Menu Item
Price

From The Kitchen

Edamame
$9.00
Dips Board
$18.00
Vegetable Spring Rolls
$18.00
Prawn Twisters
$20.00
Classic Wedges
$18.00
Deluxe Bacon Wedges
$21.00
Greek Wedges
$24.00
Louisiana Spiced Chicken Tenders
$19.00
Falafel Wrap
$18.00
Fish Tacos
$19.00
Chicken Tacos
$19.00
House Cooked Nachos
$21.00
Salt Water Barramundi & Chips
$24.00
Chicken Parma & Fresh Mozzarella Wrap
$23.00
Prosciutto Pizza
$24.00
Mushroom Spinach & Halloumi Pizza
$24.00
Chicago Style Hot Dog
$19.00
Beetroot, Quinoa & Feta Burgers
$23.00
Gold Class Mini Burgers
$25.00
BBQ Pulled Pork Rolls
$25.00

Side Dishes

Thick Cut Chips
$5.00
Beer Battered Onion Rings
$5.00
Sweet Potato Chips
$5.00
Shoe String Fries
$5.00

Children's Meals

Chicken Strips & Chips
$22.00
Margherita Pizza
$22.00
Fish & Chips
$22.00
Burger & Chips
$22.00

Sweets

Warm Chocolate Pudding
$16.00
Lemon Meringue Tart
$16.00
Carrot Cake w/ Cream Cheese Frosting
$16.00
Salted Caramel Waffle Sundae
$21.00
Brownie Sundae
$21.00
Churros
$19.00
Gourmet Cheese Selection
$29.00
Rocky Road Popcorn
$13.00
Salted Caramel Popcorn
$13.00
White Raspberry Popcorn
$13.00
Popcorn Sampler
$19.00
How does Gold Class stand out?
In more ways than one. Gold Class is quite a few levels above the standard experience you'll get when watching a movie at Village Cinemas, or at any cinema for that matter.
Not only is their menu one of the best being served up at any of the luxury cinemas in Australia, the service and extra amenities you'll be greeted with combine together to form one experience which may be better than the movie itself.
At each Gold Class location, all the work is done for you. Personal waiter service, luxurious reclining seats, gourmet food from a well-designed menu, and of course, world-class cinema sound and technology.
Did we mention the well-designed menu? Oh, we did. Well, it's worth mentioning again because it's unbelievably delicious. Pair it with a great movie and you've got a date worth for the Queen herself.
The menu itself has been designed utilising local Aussie providers – all passionate experts in their field of cultivating the finest ingredients possible.
Village themselves work closely with each of the food suppliers, helping develop exclusive items on the menu to continuously serve up plates that'll leave even the fussiest of eaters jumping for joy.
If you haven't had the joy of experiencing their menu yet, it can be a bit intimidating at first with the wide variety and selection of foods to choose from. So let's take a look at what items are already topping the list on the menu.
On a side note, Village made a short promotional video for Gold Class a few years back when it was first hitting the cinemas:
What's the most popular food on the menu?
If you're after something a little on the lighter side to enjoy with your movie, the cold Fish Tacos are a great little side to snack on whilst you're seated in your luxurious reclining seat.
Otherwise, if you're looking for a dinner that'll leave you more than satisfied, consider the Salt Water Barramundi & Chips. A delicious piece of fish wish s side of chips almost always cooked to perfection. Absolutely delicious.
Now, those are just two of our favourites, and what we've heard a few others have enjoyed as well. You know what the good news is? You get to choose what you want, and you get to enjoy it with the movie you've chosen.
Either way, we definitely recommend you pair it with a glass of wine or cocktail to wash it all down. Lovely.
Are there any packages or deals available?
Yep – and they're excellent value for money.
There are three types of packages/vouchers you can buy. Here's what they are, how much they cost, and what you'll get for them:
Standard – $159

2 x Gold Class Admissions

Any 5 Items from Menu

2 x Glasses of Wine

Black – $199

2 x Gold Class Admissions

Any 5 Items from Menu

2 x Glasses of Wine

2 x Off-Peak Gold Class Admissions

Indulgence – $199

2 x Gold Class Admissions

Any 5 Items from Menu

1 x Bottle Sparkling Chandon

2 x Premium Blend Coffees
All of the packages above can be purchased as an e-voucher for instant delivery, or in a physical card format – which is slightly more suitable as a gift then.
You can buy any of the vouchers today from here.
Are the prices worth it?
That just depends on what you value.
If you're heading to Village just to see a movie, without really wanting to indulge a little with some up-market seating and food on the side – then no, Gold Class isn't really worth the money seeing as though an admission ticket is nearly double the price of a standard on.
But, if you want to treat the whole movie-watching experience as just that – more of an experience, then Gold Class is definitely worth it.
The food, the service, the seats, the atmosphere – it's completely different to your standard cinema. It's something you'll definitely remember for a while to come. And it's something that may make it hard to go back to watching a movie at a standard cinema. We're not sure if that's a good thing or a bad thing yet.
With all of that being said, if you've never experienced the Gold Class at Village Cinemas before – we recommend you do. The food, the menu, the drinks – it really is something else.
Where are the Gold Class cinemas located?
Not all Village Cinemas are accompanied by a Gold Class. So it's good to find out beforehand if the one near you has a Gold Class.
Here's a list of all Village's cinema locations that have one:
| State | Area |
| --- | --- |
| NSW | Albury |
| TAS | Hobart |
| VIC | Bendigo |
| VIC | Century City |
| VIC | Crown |
| VIC | Doncaster |
| VIC | Fountain Gate |
| VIC | Geelong |
| VIC | Jam Factory |
| VIC | Karingal |
| VIC | Knox |
| VIC | Plenty Valley |
| VIC | Rivoli |
| VIC | Southland |
| VIC | Sunshine |
| VIC | Werribee |
How can you get in touch with them?
If you want to get in touch with Village Cinemas directly with any questions you have about their menu or the prices on it, I'd recommend sending them a message on their social media:
Twitter
Facebook
Instagram
Not into social media? You can send them a message directly through a form on their website. Or, you can check the FAQs to see if you're question's already been answered (there isn't much on Gold Class though).
Otherwise, find out where the closest Gold Class is to you and give them a call directly. They'll be sure to have the answer you're looking for.
Conclusion
As you can see, the menu on offer at Village's Gold Class Cinemas is one to certainly be desired.
No more do you only have the option to buy candy and sweets whilst watching your movie, now you can dine on some of the finest food offerings Australian cinemas have to offer.
If you have any more questions about their menu or the prices of each item on it – let us know in the comments below!